CERTIFICATIONS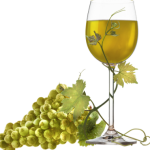 The UWC Samos receives the grapes, produces the wine and trades almost the entire production of the island. In search of constant modernization, it invests in technology and know-how, in harmonious combination with traditional viticulture and winemaking and in compliance with ISO and HACCP certifications.
It also has certification for the production of organic-farming wines from DIO, an organization of control and certification of organic products.
PROTECTED DESIGNATION OF ORIGIN
The Samos Muscat is highly recognized all over the world and has definitely associated its name with its geographical origin, as is the case with the best international varieties. This is the reason why Samos wine has one of the oldest registered European designations of origin (PDO) and is entitled to be marketed under the name "Samos" internationally.
AWARDS AND DISTINCTIONS
SINCE 1937

The wines of the UWC Samos are the first Greek wines to be classified with a controlled origin appellation or as they are now classified as Protected Designation of Origin (PDO).
Since 1937, they have been honored with hundreds of medals from international competitions, and new national and international distinctions are being added on every year.
Click here to view the awards:
AWARDS AND DISTINCTIONS PER WINE
AWARDS AND DISTINCTIONS OF LAST YEARS 2013 2014 2015 2016 2017